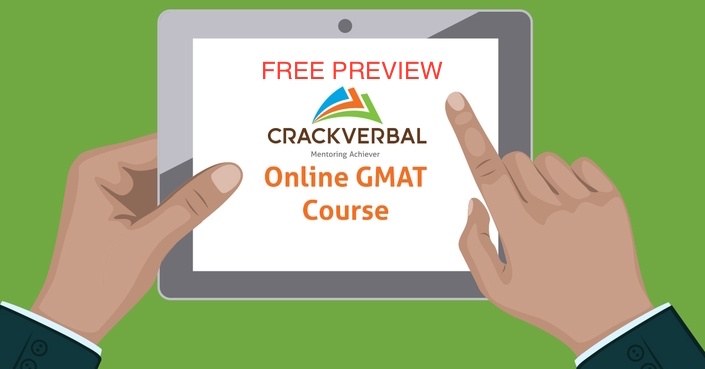 The *only* program in the world that is tailored to help you study for the GMAT - not just telling you WHAT exactly you need to study but also HOW you need to be studying to achieve maximum results.
1) The CrackVerbal GMAT Online Course Videos
We understand that you need your lessons to be accessible on the go - that is why our video courses fit perfectly into any screen: mobile, tablet, or laptop. You can access our GMAT strategy, concept and application videos that are short enough to keep your attention yet comprehensive enough to cover the concept.
Our GMAT online course also includes the following four unique modules:
GMAT Quant Basics
How to Study for the GMAT
Inside the Mind of a 760 Scorer
GMAT Score Booster Strategies
A. GMAT Quant Basics - This module has everything that you need to brush up on your basic quant skills (especially if you are a non-engineer) so you can strengthen the core skills before you move on to the GMAT Quant course.
B. How to Study for the GMAT - In this course, we dwell on the science of productivity and neuroscience to make your preparation for the GMAT more effective. This is based on my research and experience teaching thousands of students who want to crack the GMAT but just don't know how to study alongside a hectic day job.
C. Inside the Mind of a 760 Scorer - In these modules, you will get multiple perspectives on solving the question and will open up the critical thinking process to approaching GMAT 650-750 level questions - a key skill needed on the GMAT.
D. GMAT Score Booster Strategies - This module will give you a snapshot view of the entire course along with specific strategies of guessing, timing, and managing your mental stamina.

The GMAT online program also comes with a 7-day money-back guarantee with no questions asked!

2) GMAT Testing Resources:
We understand that you are not ready until you practice GMAT standard questions. Our suite of testing products would help you solve 1000s of questions in both Verbal and Quant to ensure you don't need any other resources.
You will do so using the following three stages :
Stage 1 - Using the CrackVerbal Testing Platform: Perfect your GMAT test-taking strategy with 45 sectional tests along with detailed explanations and analytics to keep you on track while learning the concepts.
Stage 2 - Over 1600 GMATclub questions: Choose between the Computer Adaptive Tests (25 quant + 8 Verbal), Quizzes, or Browse mode to solve these 1600 GMAT questions to help you hone your GMAT problem-solving skills.
Stage 3: 5 full-length tests: Prepare for the actual GMAT using 5 full-length computer-adaptive tests(From 800score) that build your mental stamina while helping you test out your strategies.
For any questions about the course please feel free to email [email protected] or call our GMAT Online Experts at +91-8880560000

Why CrackVerbal?
We are one of India's fastest growing GMAT test prep company !
Trained more than 13000+ students for competitive tests such as the GMAT & GRE. Our students have made it to the world's best colleges including Harvard, Wharton, Kellogg, Columbia, Oxford, Cambridge, INSEAD, LBS, IIMs, & ISB.

Teaching Beyond the Books -Our trainers have many years of teaching experience behind them! You'll get much more from us than bookish concepts and dry theory.

Techniques Designed for Non-Natives - CrackVerbal's strategies have been developed ground-up for Indian test-takers through a decade of teaching & research.

Unlimited Support System-Till you achieve your target score, you can access all of our support system, refresher sessions and students-only discussion forums

Keeping you on the Straight & Narrow Path- To help you channelize your time & effort, we will give you a comprehensive study plan and a dedicated student counselor.
Frequently Asked Questions
When does the course start and finish?
This course is valid for 6 months from the date your sign-up
Is this course transferable?
Sorry once you buy you cannot transfer the course to anyone else. However, if you refer us to a friend - we have a generous referral bonus. And a discount for your friend - that way both of you get to benefit.
Can I extend the course?
Of course! In case you want to extend the course, we can do so at $100 for the next six months. And if you give us your GMAT registration date - we would even extend the course for some time. Don't worry - we are just trying to make sure you get to take the test and become our raving fans! :)
Can we download the videos?
Currently the course is accessible as a streaming service only. So you need to have a reliable Internet speed while watching. Typically most 4G LTE / Broadband speeds would be enough to watch the videos uninterrupted.
If you are called CrackVerbal - how good is your quant program?
We started out as a Verbal only player way back in 2006 - however since 2010 we have been offering our Quant program as well. Our Quant program has received reviews from GMAT test takers both those who are starting off and those who are trying the break the 80th %ile threshold on Quant.
How is the CrackVerbal course different from other GMAT online courses?
There are two reasons why you should pick CrackVerbal: We are "real" teachers who have taught 1000s of students since 2006! We understand the GMAT. More importantly - we understand the real challenges that a student like YOU will face while preparing. We are not a bunch of "videos". This is not really a self-service online course - we understand sometimes you want someone to keep you on the straight and narrow! We just a call or a WhatsApp message away. Currently, we feel that all our competitors are offering only theory videos that leave the "learning" onto you. We do both!
Who would benefit most from this program?
There are 3 kinds of students who derive maximum advantage from our program: 1) Those who have not started yet and need a focused approach. We understand if you have been thinking of the GMAT but not decided to take the plunge not knowing how to go about it. We will handhold you by ensuring you study just what is relevant for the GMAT. 2) Those who have already taken the GMAT and need a fresh perspective. Those who have solved questions using a particular approach might find it frustrating because your scores are not going up. We help you unlearn and relearn new ways that are aimed to maximize your test scores. 3) Those who have started self-prep and need to boost their GMAT scores. There is plenty of "free" stuff out there. We understand what you need is the right direction and motivation so that you make optimal use of your time. We give you both the content as well as the mentorship required for your GMAT journey.
Who are the instructors?
We are glad you asked! The course videos have been shot by "real" teachers. Teachers who have spent years teaching in front of real GMAT students. So we don't think like "teachers" - instead, we think like "students": What if I didn't know a particular concept? Could I have approached this problem differently? Should I have guessed this question? What is the best strategy to get the right answer? All the Verbal and the Strategy videos have been shot in HD quality video with Arun Jagannathan, the founder of CrackVerbal and one of the leading GMAT instructors in the world. https://www.crackverbal.com/about/
What if I have questions/doubts after signing up for the course?
Don't worry - we are just a phone call away. Just call us during business hours (9am to 6pm Indian Standard Time) any day of the week! Once you get on board, you will be given the contact details of your facilitator who will serve as your single point of contact going ahead. If you have specific course-related doubts you can either post it on our dedicated GMATClub forum where you can post your questions. All our GMAT experts would be available to help answer your doubts on specific questions. Also, during the weekly live sessions, you can always have your queries answered in real-time from your GMAT instructor.
What if I end up missing a live session?
Don't worry - we got you covered. We will provide you with access to the recording post the session so you can watch it at your convenience. We will also send you the schedule of the next session on the same topic that you can attend.
What type of device or browser do I need to watch the GMAT online videos?
You can view our GMAT online course on any internet-enabled device, on any standard browser. So you could use it with your phone, your tablet or your laptop. However, we would suggest you pick a quiet place that has a stable internet connection so you can focus on the lessons.
What if I'm not happy with the course after purchasing it?
That is highly unlikely but we understand that the course might not be the right fit for everyone and would appreciate your decision. Our only request is to let us know within 7-days of the course being purchased (invoiced being generated). We won't asking any questions - just feedback on what made you change your mind.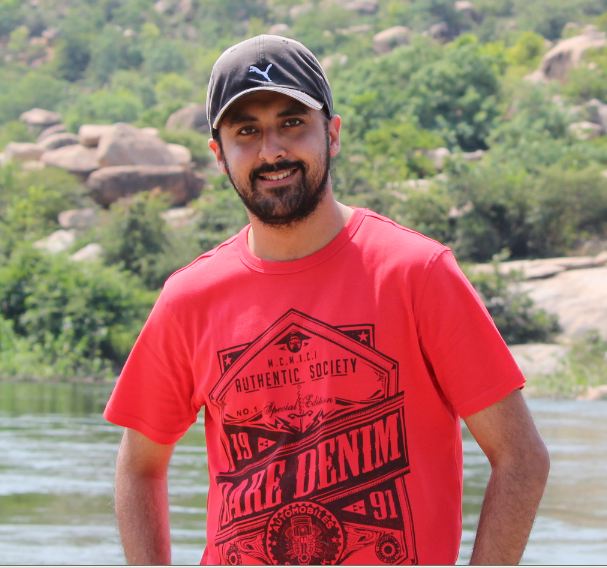 GURPREET : GMAT 770 - Every concept was made crystal clear in class! I never felt the need to read any other book after attending CrackVerbal's classes. I would like to thank Crack Verbal for its excellent classroom experience as well as its full-proof student support system. IMO, the study schedule/plan provided by CrackVerbal is more than enough to crack this exam!!
APURV MANJREKAR: GMAT 760 - Th
e verbal classes at CrackVerbal are really awesome. I dont remember picking up the book and ever reading any rules after their classes. They were just etched in my mind. I would like to thank the CrackVerbal faculty and the academic team from the prep front. The support team was awesome and never left me complaining about anything. Read about his GMAT journey in detail here. Follow Apurv on LinkedIn.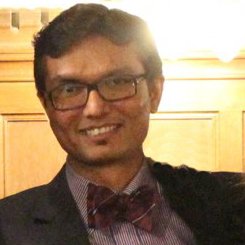 KAUSHAL VYAS GMAT 750 - SAID BUSINESS SCHOOL - My goal was to get 750+ in my second attempt at GMAT on 29th Dec 2012. I scored 760(Q50 V41). I am thankful to the CrackVerbal team for being an integral part of my preparation. Arun is the Gandalf for all us Frodos out there ! Read more about Kaushal's GMAT journey here. Follow Kaushal on LinkedIn.